Commissions are closed, as my work is picking up pace again. Thanks everyone who commissioned me in these last few months!
What I will do:
Your original characters (if pictures and/or detailed character description are given)
Fanart of any series in my gallery
Style of your choice:
Lineart: Solid cel shading (
[link]
, soft cel shading (
[link]
, semi-realistic shading (
[link]
, & western comic styles (
[link]
No lineart: Realistic/painterly (
[link]
, 'white line' style (
[link]
Traditional marker art (
[link]
Backgrounds (for cartoons/animation etc)
Other conceptual work
Both commercial and private work
What I won't do:
Cosplay or plush commissions
Hentai/porn
Yaoi/yuri
Highly offensive or gorey art
Charges are on a per hour basis. I've decided to go by two categories; commercial and private (ie. If you'd just like a private commission of your character etc, and won't make profit from it, it's a private commission. If you want a book cover or any other commercial work where you will make a profit, then the commercial charge applies).
Private work $20 an hour
Commercial work $25 an hour
(charges are in US dollars)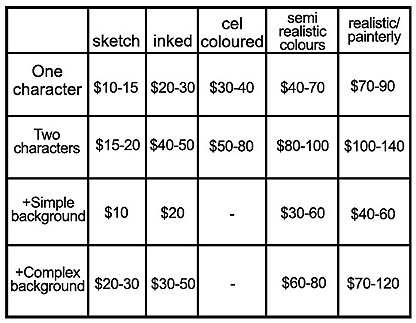 I generally write the amount of time a picture takes at the bottom of each picture I do, so to get an idea of how long a commission would take, please find a picture in my gallery similar to what you're looking for.
I can only take payment via Paypal for international clients
. If you're in Australia; I can take Paypal, bank transfer or Australian money orders. Please make sure you're able to pay for the commission within two weeks after completion.
If you'd like a commission, contact me at:
risachantag@gmail.com
Please include info about your commission idea and, for original characters, provide links to any sketches etc that you may have.
Please do not send DA notes, as I will need to send you in progress samples.
Slots 1/1 filled
1. Jennifer L. - finished, awaiting payment
2. closed
3. closed
4. closed
5. open
caswabi - finished
RipRedwood - finished
Jennifer D - finished
Schattenshock - finished
NebetSeta - finished
MetalMushroom - finished
Strikehawk - finished
StarDragon77 - finished
Nate the Great - finished
Ken - finished
Tess - finished
Commission Samples:
* * * * *
Commissions are open
Frequently Asked Questions
PLEASE READ THESE BEFORE SENDING NOTES! If your question is already answered here, I'll either send you a link to this page or not respond.

Pen Cafe Members!